Dr. Matthew A. Bridges is a Double Board Certified Facial Plastic Surgeon offering cosmetic and reconstructive surgery for the face, nose, and skin. Dr. Bridges has spent many years studying and going through extensive training to become one of the top facial plastic surgeons in Virginia. He is board certified in Otolaryngology/Head and Neck Surgery, which gives him an advanced knowledge and understanding to the functions and diseases of the ear, nose, and throat. Dr. Bridges is also board certified in facial plastic/reconstructive surgery and he combines both of these certifications to provide excellent care and treatment for his patients.
RealSelf Q&A with Matthew Bridges, MD
Dr. Bridges performs nose surgeries for cosmetic reasons (rhinoplasty) and for medical reasons (septoplasty, sinuplasty, and more) with outstanding results that improve his patients' lives and confidence. Patients seeking facial reconstruction to restore the form and function after a trauma or skin cancer excision will find that Dr. Bridges is a skilled and compassionate surgeon. In addition to reconstructive procedures, he performs facelift surgery, brow lift and eyelid lift surgery, otoplasty and chin augmentation. He also offers a number of nonsurgical facial rejuvenation treatments such as injectable fillers and BOTOX.
Dr. Bridges received a Bachelor of Arts with highest distinction in Biology from the University of Virginia, where he spent 4 years on the Dean's List, and was a part of Phi Eta Sigma Honor Society and AED Premedical Honor Society. Dr. Bridges then continued his education at the University of Virginia School of Medicine where he earned his Doctor of Medicine degree. He then began a 1-year surgical internship at the Virginia Commonwealth University Health Systems with rotations in general surgery, neurosurgery, transplant surgery, vascular surgery, thoracic surgery, cardiac surgery, trauma surgery, anesthesia, and emergency medicine. Dr. Bridges stayed at VCU Health Systems and chose to focus on Otolaryngology/Head and Neck Surgery during his 4-year residency. To complete his specialized training, Dr. Bridges completed a prestigious year long fellowship in Facial Plastic/Reconstructive Surgery with world-renowned facial plastic surgeon Dr. Russell Kridel at the University of Texas Health Sciences Center at Houston.
After his residency at Virginia Commonwealth University Health System in Otolaryngology/Head and Neck surgery, Dr. Bridges joined the United States Air Force (USAF). He served as the staff otolaryngologist at Keesler Air Force Base and Langley AFB Medical Center. Dr. Bridges was awarded the rank of Major in the USAF in May 2005. Dr. Bridges received an Honorable Discharge from the U.S. Air Force in 2008, when he decided to continue his training with a fellowship in facial plastic/reconstructive surgery.
Dr. Bridges believes strongly in educating the next generation of facial plastic surgeons so he has been a clinical instructor at Keesler Air Force Base, Portsmouth Naval Medical Center, and the University of Texas at Houston. He is currently an assistant professor at his alma mater, Virginia Commonwealth University. Click here to visit the VCU website.
Dr. Bridges has received many awards and honors for his work in facial plastic surgery including 3 awards from Vitals: Patient's Choice Award, Compassionate Doctor Recognition, and On-Time Doctor Award. He was also a recipient of 2 scholarships, the Howard Hughes Undergraduate Research Fellowship and D. Edward Hebert Armed Forces Health Professions Scholarship and Financial Assistance Program. Dr. Bridges is also proud to be on the Healthgrades Honor Roll and a Top Doctor on RealSelf.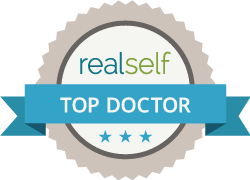 Dr. Bridges is a member of the American Academy of Otolaryngology-Head and Neck Surgery, as well as the American Academy of Facial Plastic and Reconstructive Surgery (AAFPRS). He is also a part of the American Academy of Otolaryngic Allergy and a former member of the Residency Staff Council Committee, Virginia Commonwealth University Health Systems.
Research and Publications
In addition to his practice and teaching positions, Dr. Bridges also remains involved in medical research and writing for medical publications. He has worked with several top facial plastic surgeons, including his mentor Dr. Russell Kridel, on research projects to improve the field of facial plastic surgery. He has also authored and co-authored several papers that have been published in prestigious medical publications and given numerous presentations to the medical community.
Medical Privileges
Reviews
"Beautiful new nose - Dr. Bridges and his staff are absolutley wonderful! I had rhinoplasty and am thrilled with the results. My new nose is beautiful and exactly the nose I should have been born with. It's so natural looking that people notice "something" about me, but those that I didn't tell, haven't quite figured it out. I have also been treated with dysport by Dr. Bridges. A few years ago, I got botox once from a very well known doctor. I never went back because the results weren't noticeable. With Dr. Bridges, my results are amazing. I look like I had a brow lift with dysport between the "ll" lines on my forehead and an eye lift with injections at the crows feet. I am beyond pleased and would reccommend him 100%!"
Anonymous
Vitals
"Excellent ENT - Dr. Bridges was amazing with my son, very patient, understanding, and willing to work with us. Unlike many doctors these days, he sat down and looked us in the eye and listened to what had been going on. I was very impressed and pleased with the care he gave my son."
S.
Vitals
"I was referred to Dr. Bridges by another plastic surgeon in the Richmond area. He is double board certified as a facial plastic surgeon, and an ENT surgeon. If your problem is in anyway ENT related, avoid a strictly cosmetic facial plastic surgeon or ENT surgeon. Ideally, you want someone double board certified in both areas. I have had 2 prior nose surgeries (ENTs) to try to correct my deviated septum to alleviate breathing problems, allergy symptoms, chronic congestion, sinus pressure, and headaches. During the initial consult, I provided the history of my problem and details of the prior surgeries. I told him, with all that surgeons can do today, a surgeon should be able to FIX MY NOSE!!! I was close to begging him to do so. *sigh* He told me he believed he could improve my condition. I scheduled the surgery for 3 weeks later. I'll admit I was in rough shape after the surgery for about 36 hours due to the anesthesia. (I may have yelped during this time period, though I can't recall. *wink*). I'm writing this review 9 weeks post-surgery. This is the best improvement I've had out of the 3 surgeries. I still have a few months for all the swelling to subside but there is noticeable functional improvement. I'd guesstimate about 60-70%. The good news, Dr. Bridges was able to straighten my septum and somewhat widen a narrow nasal passage; the bad news, my septum doesn't fall down the center of my nose, thereby making one nasal passage twice the size as the other"
B.B.
Yelp
"Top of the line Service, Products and Friendliness. Dr Bridges' talents and brilliance are assets for us Humans with Skin!"
K.R.
Facebook
"Revision Rhinoplasty - Midlothian, VA - In 2012 I had a primary rhinoplasty by a very well-known local plastic surgeon. Following the surgery, it was apparent that too much cartilage had been removed from the tip of my nose leaving me with a pinched appearance. Dr. Bridges was recommended to me by another plastic surgeon. When I met Dr. Bridges I was so impressed with his ease, his assessment and his recommendation of what he could do to address the issues with my nose. As a registered nurse, his assurance that he takes his time during the surgery and is complete in his work was very important to me. In June 2014, Dr. Bridges revised my previous rhinoplasty and I have been delighted with the outcome. Dr. Bridges is an extremely skilled surgeon, an expert in advanced and current techniques and has provided excellent post-operative follow-up evaluations. I am so grateful that someone with his skill at revision/reconstruction is in the Richmond area and that I was referred to him. I highly recommend him and my only regret is that he didn't perform my primary rhinoplasty. LSC"
A.
RealSelf
Related Posts